What Slogan Tiebreaker Competitions?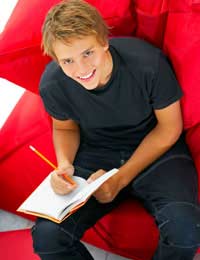 Slogan tiebreakers offer compers the chance to flex their brain muscles and even provide the nugget of inspiration for the next big advertising campaign.
What Are Slogan Tiebreakers?
Of all the main consumer competition types, slogan tiebreakers are perhaps the most taxing and demanding of brain power. They usually involve completing a set sentence in an 'apt and original' way and in a set number of words.
Slogan tiebreakers effectively put the competitor in the role of advertising executive, trying to come up with a catchy phrase to sell a product. They are used by manufacturers as a way of making consumers think positively about a particular item. Also it no doubt serves as a very convenient way of saving the real ad executives from coming with their own ideas for future promotions!
Entry Requirements
Most consumer slogan competitions require the entrant to firstly purchase an item promoting such a slogan promotion - such as washing powder, apples or a television for example – and then when submit their entry they must include the proof of purchase. The competition may also include a request to answer a couple of simple questions regarding specific details of item or the promotion.
Entrants must pay particular attention to the specified word limit to avoid scuppering their chances. For instance if a word that is an abbreviated form of two words – such as 'isn't' – is included then it is usually counted as two words.
The Art of Slogan Writing
Like with cryptic crosswords, successful slogan writing demands a specially tuned mind, or at least a clever formula. This aspect puts off all but the committed, thereby leaving the playing field open, and increasing the chances for the serious slogan compers to reap the rewards.
The art of good slogan writing is in being able to respond aptly to the opener with a catchy sentence that balances rhyme and rhythm and throws in a pun or a clever bit of wordplay for good measure. It goes without saying the slogan must praise the company or product - one highlighting its many faults won't go down too well.
The Art of Slogan Rewriting?
Originality is also key, as the judges will wearily pass over the same old hackneyed phrases and puns that make regular appearances on the tiebreak circuit. Still that doesn't stop those compers without the slogan genius gene from finding alternate, and not wholly original, means of claiming their prize.
Many crafty compers consult the databases of prize winning slogans available in competition magazines and on competition websites, and if these don't inspire them to craft that slogan gem, they can always just make subtle changes to old chestnuts and submit them as new, whilst repeating to themselves the mantra that 'if the judges have not seen them before – they are original!"
Increasing the Chances of Success
Before thinking about ways to improve chances of success it is important to first make sure that the one chance of success is a valid one. It is therefore always wise to write the entry clearly and include the proof of purchase or answers to any specified questions, and make sure there are no spelling or grammatical errors, or word limit oversteps.
When all these aspects are in order then, if it is allowed in the terms and conditions, it is always worth submitting more than one entry to increase chances of winning. This is a particularly good idea if the slogan brainstorming session has produced a few equally fine phrases and it is difficult to choose between them. Finally it is essential to note that unlike with prize draws, skill-based and instant win competitions, the quality of the entry is more important than the number of entries.
You might also like...