Doing and Winning Prize Draws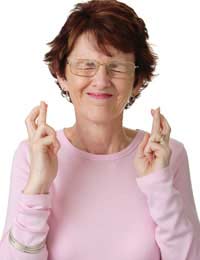 Crossing fingers in hope is the only skill needed to enter a prize draw, and have the chance of winning a dream, from a holiday in the sun to a supermarket sweep.
The Competition Classic
The prize draw is the classic consumer competition. This game of chance, known in the U.S. as a sweepstake, is usually very easy to enter and open to all – compers and casual competitors alike. The winner is chosen by simply choosing an entry at random or 'out of a hat' as is the tradition.
Prize draws feature a whole host of different prizes from electrical goods and dinner sets to homes and vast sums of money and can vary in value from one pound to a million.
The prize draw has been traditional community competition for many years, but in these instances the prizes are usually funded by the tickets sold. The consumer version differs in that competitors are not required to pay an entrance fee, and the prizes are donated by a company sponsor. However, rather than this being a grand act of generosity instead it is a way to attract the greatest number of entrants and a way for the promoters to avoid being accountable for lottery laws.
Promotional Cost
Instead of demanding an entrance fee, companies also often receive their rewards by specifying that entrants complete a consumer survey as part of their entry form.
Consumer prize draws are usually associated with marketing promotions intended to generate interest and enthusiasm towards a product, service or company. Therefore another 'cost' to entering a prize draw is often in giving the companies consent to use entrants' contact details to send adverts and promotional literature.
For those not wishing to be bombarded with junk mail there is now usually the option of choosing to decline such correspondence by ticking a small box on the entry form.
How to Enter
At their most basic, entrants just need to supply their name and contact details on a postcard or an official entrance form.
Consumer prize draws are a regular feature of many women's lifestyle magazines such as Bella, Prima and Take a Break. Arguably the most well known prize draw featuring publication is Reader's Digest, although it is more renowned for persistent junk mail than its winning stories. The rise of the comper has also given birth to the phenomenon of the competition resource, a publication that saves time, effort and money by compiling many of these competitions in one easily accessible place, albeit for a healthy subscription fee.
Increasing Chances
Many compers attempt to defy the elements of luck and chance inherent in prize draws by employing a variety of ingenious tactics.
The most basic of these is to increase of chance of winning by submitting more than one entry. A sharp comper will check the terms and conditions to see whether this is allowed and if not then get friends, neighbours and family to enter on their behalf. Successful compers are also skilled in the fine art of using colourful and picturesque entry postcards to attract the deciding judge's eye.
Online Prize Draws
Such comper artistry is redundant on online prize draws which, with the increasing popularity of the internet, are steadily taking over from snail mail competitions. Internet draws are efficient, easy to enter and don't incur the costs involved in preparing and posting letters and postcards.
You might also like...