What if You're the Victim of a Competition Scam?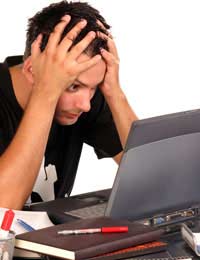 Many of us have had an email, letter or phone call telling us, in an overly excited manner, how we have just won an incredible prize and sometimes these messages often enter our computer screens or telephones when we haven't even entered a competition or prize draw. However, these carefully placed messages are often (but not always) the result of a competition scam.
These scams frequently ask for us to send over bank details or 'just send a £5 check to receive your fantastic prize'. Unfortunately many people believe that the prize is actually there and that it will be sent once you have replied with a 'little admin fee'. These scams are thought up and distributed throughout the country to exploit people.
Paying the Price
A large percentage of these scams ask the competition winner to send money, hand over bank details or ring an expensive phone line. Whether you believe that the company that have got in contact with you are a legitimate trading organisation or not, you should always research and conclude the status of the company before sending over personal details or payment. You can easily enter the name of the company into a search engine to see if it is on the web. If the company is not on the web you can be (almost) certain that the company has been made up to fulfil the scam, as most legitimate companies nowadays have some sort of website or contact address. If you are a frequent comping enthusiast, check your records to make sure you actually entered the competition before going any further. Many people enter so many competitions that they often reply to competitions they have not entered.
Acting Quickly
It is essential to warn others and expose the scam as soon as you realise the competition is not legitimate. There are many websites that are specifically created to expose competition scams and who try and investigate possible scams. Another effective way of exposing these scams is to post them on website forums, that way people are informed of these exploits quickly.Unfortunately, in many cases, if you have sent your money or replied to a phone-in scam the chances of receiving a refund are slim, as most competition scams shut down the competition and move on before anyone realises they have been exploited. However, it may be worth contacting a national scam investigation agencies (there are many on the web) and explaining your situation to them. They may be willing to investigate and try to uncover the culprits.
Contacting a scam agency is probably the first step you should take as they can investigate immediately and try to target the people involved in the scam and attempt to shut down before others are exploited. Having done this you should then try to get the word out about the scam by posting on blogs and forums.
People each year are unfortunately drawn to these fake competitions that promise large sums of money or fantastic prizes and that is why the only way to prevent these exploitative scams is to identify what is real and what is a legitimate competition. So before you send out any money or hand out personal details ensure that you are replying to a genuine competition.
You might also like...
@Holz - chuck it in the bin where it belongs.
PeteF
- 9-Mar-18 @ 12:08 PM
Got a letter from national competition and survey entrants register sayimg id got a prize so i text it, only to come on here to see that its a scam. Silly me!! I feel so daft.What do i do now? Thanks in advance
Holz
- 8-Mar-18 @ 8:50 PM
My mum received letter from national competition & survey entrants registertoday. Anything that promises you money or a prize ifyou call a premium rate number is a scam!!!!
Tracyshoes
- 8-Mar-18 @ 5:23 PM
I've just received a letter from 'National competition and survey entrants register' and not sure if it's a scam or not. Has anyone ever had one? Don't want to be scammed but don't want to ignore it if it's genuine. Thanks guys!!
Hayley93M
- 8-Mar-18 @ 3:32 PM
@sammie - absolutely. Even if it said I'd won a million £, I still wouldn't believe it Lol.
Pinkk
- 9-Feb-18 @ 2:34 PM
I just got another letter from wye valley promotions telling me I'd won a prize and to call to get the unique no and prize details load of rubbish total con
sammie
- 6-Feb-18 @ 8:30 PM
I have just received a letter from publication bureau gb &ni about some cash prize
ROTTA
- 6-Feb-18 @ 7:11 PM
@Al - just ignore anything you're unsure of. It might be bona fide, but the 'prize' might be something like a pen or something absolutely rubbish that doesn't justify the time spent taking the survey. Plus, they only want your details to put you on one system or another.
LizV
- 9-Nov-17 @ 3:17 PM
My partner has just got a letter from nspco claiming he has won a prize and he has to phone them,so I have googled them but found nothing so I came onto to this very helpful page and found out that it's a scam,thank you all so much for your help,I just hope nobody falls for this .
Lynn
- 8-Nov-17 @ 8:51 AM
Have received this "wonderful" letter from nspco stating I am entitled (?) to a prize for taking part in a telephone survey? All sounds too good to be true and I believe it is, what are other peoples thoughts & findings on this "scam"????
My 2nd reminder came today, if I have won anything then surely they should be decent enough to tell me what it is I have won and not ask me to pat £(1.50 x 6) to find out. Flaming Rogues!
Ninz
- 7-Nov-17 @ 4:43 PM
This company doesn't exist - they are pure fraudsters. They prey on vulnerable people and get away with it. Make sure you bin all correspondence from them and report them if possible.
Jammitart
- 7-Nov-17 @ 2:58 PM
Same as above nspco letter today what a scam
Postman
- 7-Nov-17 @ 12:36 PM
Nspco same address as above, nothing shows up on google. Think I might not phone them 6 times
Bill
- 7-Nov-17 @ 10:58 AM
Like many other people I got a 2nd (final reminder ).Persistent they are. Glad decided to look them up. Don't usually but something said "check them out". They are vultures. Should be exposed.
Curdie
- 26-Sep-17 @ 12:27 AM
It's a trap! (Star Wars) lol Just bin the letter
Ace26
- 16-Sep-17 @ 2:17 PM
I have received 2 letters from Publication Bureau GB&NI. They were addressed to a deceased relative that I am doing probate for. I hope they didn't respond to earlier ones when they were alive. I haven't responded to it . Address given PO box 224 Hereford HR9 9FN asks for call at £1.50 a minute x6 mins! Address right at bottom of publisher is 2017 Wye Valley promotions ltd t/a Publication Bureau . reg office Green hays walford road herefordshire HR9 5DB
bones
- 14-Sep-17 @ 2:30 PM
Some of these fake competitions have websites that look professional. I entered a different competition via a website and they sent me "Guaranteed Winner of £15,000" and responded for a few years until a i got a visit from trading standards saying they where fraudsters possibly operating from abroad. As of the Publication Bureau GB NI competition i've been getting them for a few years but don't reply to them. Any idea on how i can remove my mailing details to stop
Hi.. I just got a 2nd letter from PB publication Bureu "final reminder". So I decided to Google the website address... doesn't exist the website. Then I found this page. Thanks guys.
Brito
- 6-Sep-17 @ 5:42 PM
Just came home to second reminder letter of 'gauranteed prize win'...just need to spend £1.50 per minute or per ×6 texts!! Looks so authentic!! Yet its clearly a scam as others have called/messaged and found they have no 'gauranteed prize'!!! So frustrating having these things come through the post. In the bin it goes..... ??
LaDonz
- 5-Sep-17 @ 5:21 PM
Got a 2nd letter from PB publication Bureu looks very official however its a scam. If i had won anything as the final reminder suggests i should not be asked to text or call @£1,50 per min or £1,50 per text thats 6 min or 6txts which would cost me £9.00 Bin it
Andy
- 5-Sep-17 @ 4:59 PM
I've also received "Final Reminder" letter from Publication Bureau GB & NI. I hadn't responded to their letter dated 4th August. I thought I'd Google this, I'm sick of scam letters, emails and text. I'm glad I did, although I wasn't going to fall for it anyway! We received a text this morning from HMRC saying we were due a tax refund. That was a scam too! I'm fuming that people/companies do this! Something should be done to stop them. I'm binning this letter and any more I may receive!
Michelle
- 5-Sep-17 @ 1:32 PM
I have just received a letter today saying why haven't I claimed my prize from publication bureau GB & NIso I looked them up and glad I did....saw all these comments about their scam so thank you but wonder why nothing is being done about scams like this....it's unbelievable
Radar61
- 5-Sep-17 @ 12:44 PM
Just received one from Publication Bureau GB &NI (I prefer to call them public bastards) luckily I have got to it before my elderly mother who has the same initials as me and may well have fallen for this!! might be a good idea to share on facebook.
SMC
- 5-Sep-17 @ 12:38 PM
I received yet another letter from publication bureau same PO box number as above they were concerned I had not replied to their letter from 4 th August confirming I had won a cash prize ! This is going in the bin same place as the last letters they have sent , I just can't believe nothing can be done to stop these scammers !!!
Ali
- 5-Sep-17 @ 12:12 PM
I recieved a letter from the same I rang up I also text no my I'd nmbr wasent on the winning nmbrs list since then I've recieved two more letters saying the same thing does anyone no were these letters are Cumming from
Gez12345
- 5-Sep-17 @ 11:27 AM
Hi I recieved a letter from publication bureau gb&ni saying I had won a cash prize some time ago I text it also I rang the nmbr given me no I did not win a thing since then I have recieved the same letter twice I'm not going to fall for this scam again
Gez
- 5-Sep-17 @ 11:24 AM
To find out the exact name & if its registered website company house.. There registered no 2415951 came up as Wye valley promotions Ltd it's been fined in 2014 by watch dog & told to give people a refund but continue to still scam people..
Kerry
- 5-Sep-17 @ 10:54 AM
@Jamila - This is awful. Just think of the poor people who think they have won a lot of money and really need it, it could lead them to feel absolutely desperate!
YBcx
- 22-Aug-17 @ 3:27 PM
Just been to my Mums and she gave me a letter saying that she had won some money and she needs to call 09061 593248 (£1.50 per min! Max 6 mins) to make a claim for her winnings. She was actually going to call them!! Just did a quick search on "Publication Bureau GB & NI" and their postcode HR9 9FN and this site came up. It was too good to be true. Thank you to everyone for the warning. Thankfully my Mum came to me first. I just feel bad for the people who are not clued up on this type of thing, these scammers are ruthless. Their reg number is 2415951.
Jamila
- 17-Aug-17 @ 8:24 PM