Free Vs Paid Competitions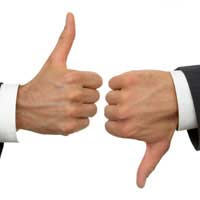 The competition world is vast and expanding, especially now most websites use competitions to draw in users and to promote products and services. However, because of this growing area it can be difficult to know which competitions are legitimate and whether you should pay money to enter. Even free to enter competitions can be deceptive with some asking compers to simply provide their personal details to enter a draw and in reality the organiser(s) has no intention of providing a prize to the winner.
This is, however, a small percentage of the comping world and most competitions advertised online, through Television or in a publication are legitimate and can often be extremely fruitful for many compers. But what type is best to enter, free or the pay to enter competition?
Free Competitions
Free competitions do have many positives over pay to enter competitions. Firstly, because it's free you have nothing to loose. The beauty of this is that you can enter as many competitions as you like without spending a penny. This will also increase your chances of winning a prize. However, the negatives of free competitions are the lack of rules and regulations required to organise them. This is not true for many but various free competitions will shun rules in order to increase the amount of entries. Many compers also enter the competition without reading any of the terms and conditions simply because it is free and they feel there is no need. This is not advisable as entering a competition of any size means you will be subject to those terms and conditions stated.
The enticing thought of a free competition can compromise many compers judgments. The increase in competition scam mail means more and more people are entering illegitimate competitions that ask for personal details. However, the percentage of people being scammed is decreasing as people are becoming more aware of the dangers and the tell-tail signs of a competition scam. Free competitions are the safer option when entering any competition but it is still always advised to read and understand the terms, conditions, rules and regulations.
Pay to Enter Competitions
The pay to enter competition encourages both negative and positive views from compers. Depending on the competition the comper is entering they are far more susceptible to being scammed when providing bank details and paying to enter a competition. Mainly online scammers will ask for bank details and promise extremely extravagant prizes if compers pay an entering cost. Unless this is a well trusted, known and legitimate company it is always advised that compers never provide bank details to anyone. Pay to enter competitions do add a higher risk as you are essentially handing over money to an unknown person or company with little knowledge of their background or reputation. Before entering a pay to enter competition compers should always spend a little time researching the company or competition organiser. If they don't have a website or contact number it is fairly reasonable to say this competition is risky. Also, if the competition is offering something substantial it is worth asking yourself 'is this too good to be true' and if the answer is yes then it is probably best to search for an alternative competition. Always rely on good judgement and don't get swept along by the enticing prizes on offer.
You might also like...