Instant Win Competitions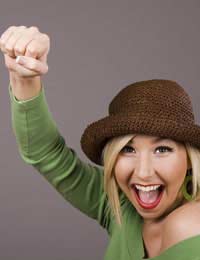 Instant win competitions offer an immediate and euphoric fix for those that find the suspense of waiting to see if they're won unbearable.
What are Instant Win Competitions?
Of all the promotion competition types, instant win competitions are the easiest to enter and, as their name suggests, offer the quickest route to success. There is no need to answer a question, complete a slogan or fill in a form, just purchase a product promoting such an offer and then open it to find out if it is a winner.
Perhaps the most famous instant win competition is that offering the chance to tour Willy Wonka's chocolate factory, as featured in Roald Dahl's classic children's novel. The hero Charlie Bucket won by finding a golden ticket in a Wonka chocolate bar. Of course that was just a fictional story but countless real life winners can attest that the dream is real enough.
Chances of Winning
As with all competitions, the easier it is to enter, the greater the number of entrants and the smaller the chance of winning. Instant win competitions are therefore not the bread and butter of hardened compers because the rates of success are low. It is common to find promoters offering token small prizes such as money off tokens and free item vouchers to encourage shoppers to not give up hope and keep buying.
Where to Find Them
The idea behind instant win competitions is to encourage as many people as possible to buy a product and so they are usually very easy to spot. Packets and boxes are typically slapped with bold eye-catching banners exclaiming the great prizes to be won. The message informing the buyer whether they are the lucky one is usually hidden inside the product, thereby stopping chancers hunting out the winning message before they've paid a visit to the till.
No Purchase Routes
For who want to win the prize but the product is either too expensive or fills them with disgust then there is usually the curious 'no purchase route' clause. In the typically miniscule terms and conditions fine print there is often a competition address where people can write and ask the company to open a product on their behalf. This ingenious method means compers avoid having to purchase something they might not want - perhaps they have an aversion to pickled eggs and marmite for example. Nevertheless it does rather spoil some of the fun of the idea of the 'instant' win.
Are The Days of Instant Wins Coming to An End?
Nevertheless there are other mysterious forces at work helping dampen that instant win euphoria. Marketing specialists wowed and inspired by the potentials offered by the twin phenomenon of the internet and text messaging have decided that their customers should work a bit more for their prizes.
The days are fast disappearing when, for instance, someone could buy a bottle of coke and then find out instantly whether they've won a new house, a holiday or another can of coke just by looking under the bottle top. Buyers are now often expected to save the bottle top, register on the company website and then enter the top's unique promotional code to find out whether they've won or not.
As outlined above, the appeal of instant win competitions is their quick and easy fix, and so these new tactics will undoubtedly put off those unwilling to jump through any extra hoops. The good news for compers of course, is that in the long run this could mean fewer entrants and a greater chance of winning.
You might also like...