Television Phone in Scam: Case Study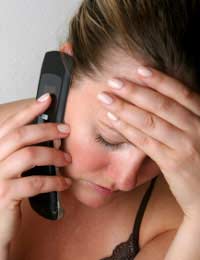 Early 2007 saw the uncovering of the television phone-in scams, which filled the tabloids for weeks. More than one of TV's most popular shows was under investigation and thousands of viewers were outraged by the national scandal.
TV Phone-ins
Amy Tessell, a mid-wife from London, was one of the outraged viewers who, week after week, would spend money phoning-in to vote on her favourite shows and entering television competitions. 'I would phone-in to TV shows trying to enter their competitions and vote on some of the reality shows every week. Spending the money on these sort of things never bothered me because I genuinely thought I had a chance of getting through to a competition or my vote was actually counting towards my favourite contestant'.
A National Scandal
When the scandal was uncovered and published in all the national tabloids, Amy was outraged and couldn't believe such viewed and respected TV shows were trying to get away with what was essentially a form of fraud. People all over the country were simply throwing their money away on the phone calls to programs that sometimes cost up to £1.80p per call. 'When the papers showed what the programs had been doing I couldn't quite believe it. I was immediately disgusted and wanted my money back'.
Once the scandal was uncovered the specific TV shows began apologising and explaining that viewers would receive a full refund if they get in contact with the relevant organisation. Amy was relieved and believed it would be quite simple to obtain a full refund. However, after contacting the organisations Amy quickly realised that a refund would not be quite as simple as she thought. Amy recalls 'Firstly, every time I phoned the organisation the person on the line would try and palm me off onto another organisation or broadcaster. It sometimes took weeks to finally reach the person I needed to speak to and once I did they then told me that before I could receive a refund I would have to prove that I had made the phone call by sending phone bills with the correct time and date of the call'. 'This was really frustrating because it would cost more to have the phone bill sent to me and then even more to send it to the broadcaster'.
Persevering For Justice
People all over the country had simply given up trying to obtain their refunds due to the small amounts of money and the time and effort it took to arrange. Amy persisted and thought it was more about the principal than the actual money itself. 'I couldn't believe that these big corporations were going to simply get away with what is essentially stealing from the public. These people are not only citizens but also the people who actually watch these programs, which makes them the broadcasters customers'.
Amy persevered with every phone-in refund that she was entitled too and although it took several weeks and sometimes months she wrote to each organisation demanding a refund. Amy was one of the people who believed that these large organisations should not be able to get away with such an irresponsible act and managed to receive most of her money back. Amy still writes and protests against the scandal and is fighting for a serious review of the whole television phone-in process.
You might also like...