Becoming a Successful Comper: Case Study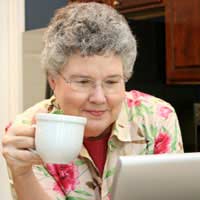 Competitions are a fun and exciting way to enjoy your time. Many can reep the rewards if played safely and sensibly. Margaret Johnson, 62 years of age from Surrey, has been an avid comper for the last ten years and has used sound judgement, discipline and of course a little luck to become a successful comper.
Margaret started out playing bingo and crosswords fairly regularly but she soon started venturing into other competition areas, 'I've been going to bingo every Wednesday for the past sixteen years. Bingo was an excellent way to meet up with friends and enjoy a little competition. I've also been interested in crosswords and puzzles since I was a little girl, so it was natural for me to progress into more general competitions'.
Comping as a Hobby
Comping is now a hobby of Margaret' and she regularly takes part in several competitions a week. 'It's become an enjoyable way of spending time with friends and occasionally receiving some wonderful prizes.
'Over the past ten years I have won short breaks away, a TV and cash prizes on several occasions. Nothing huge but I have been extremely lucky'.
Margaret admits comping is mostly about luck but she does feel you need a certain amount of discipline and good judgement when entering competitions, 'It can be easy to get carried away and start entering any kind of competition and for any cost. I've always been a true believer of only entering competitions that you feel 100% comfortable with. I also very rarely pay to enter a competition unless I'm sure everything is above board and I have a genuine chance of winning the prize. Some of these competitions advertised are scammers, especially on the internet, so I tend to avoid comping online and stick with what I know, which is mostly bingo, crosswords, TV competitions and quizzes'.
'People can get a little out of control with comping and I have seen the occasional person get into financial troubles because of it. You need to know when to stop and having that discipline to say no to a competition. I have always put a side a small amount of money for competitions because it's my hobby, just like going to the football each week or joining a club I play and enter competitions. I never go over what I've put a side and this way I never have any problems'.
Benefits and Risks
With plenty of comping experience behind her, Margaret explains the benefits and the risks of becoming a comper. 'My advice to anyone thinking about becoming a comper is to make sure they enjoy it, don't let it affect your life in a negative way, especially financially as it's just not worth it and make sure you keep aware of the risks that are involved with entering competitions'.
'If people take into account these factors when they start entering competitions there is no reason why they can't enjoy comping and become successful at the same time – as long as they have a bit of luck of course'.
You might also like...