Highs and Lows of Winning the Lottery: Case Study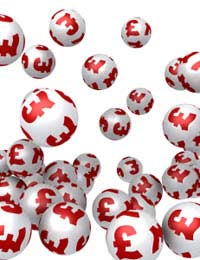 Since the lottery began back in 1994 every person over the age of 18 has yearned, week after week, to see their numbers roll out of the giant receptacle to make them another lucky individual and another wealthy winner.
Many hope to feel the buzz of a lottery win, which is understandable to everyone young and old. However, one lady who won £1.2m explains how winning the lottery can have just as many lows as it can highs.
Winning The Lottery
Jane, from the South East of England was one of those lucky people who had her numbers read out. She was ecstatic when she realised she was entitled to a £1.2m jackpot and began sharing the good news with friends and family.
Once the ecstasy of the win had slowed, Jane began thinking about how the money would be used. She had a son and daughter who both had children, who she wanted to provide for them all. Her husband had always wanted a new car and she had dreamt of a holiday to the Caribbean for many years.
Troubles Began
For the first 6 months Jane enjoyed her newfound wealth and happiness with family holidays and expensive things for her and her husband. However, things began to take a turn for the worst when people on her street started conjuring up rumours about her and her extravagant new lifestyle. 'The whole street turned against me because they were jealous of my win and this was something I just wasn't expecting. Rumours started forming around my hometown about how I was spending my money. One of the rumours was that I was going to buy one of the town's beloved cafes and turn it into a nightclub, which was just ridiculous and consequently enraged many of the locals'.
The rumours got worse and Jane found herself in a position where she decided to move. 'I grew up in the town and had lived there for 30 years and never wanted to leave. I ended up feeling like a criminal or a bad person just because I had won a considerable amount of money. Some of the people I was friends with decided that I had become egotistical and selfish, which really hurt'. Jane and her husband decided to move from their hometown to start a new life.
So-called Luck
Having settled down into their new home Jane became very depressed and wondered how her so-called luck had caused so much pain and anguish. She rarely went out and felt that everyone was judging and ridiculing her, even though they were relatively unknown in their new surroundings. 'I hardly ever left the house and only really saw my family and a couple of loyal friends from the old town. I was so depressed and wished everyday that I hadn't won any money'. Jane's husband decided that she needed some help and persuaded her to go and see a therapist, who managed to assist Jane back to her old self and fill her with the confidence she was once known for.
Happy and Hopeful
Two years after Jane's win she had finally settled into her new home and began enjoying the money that brought her so much grief and trouble. Her children and grandchildren were happy, as was her husband, which was a real boost. 'Seeing my family happy and living comfortably was a huge boost and made me realise that winning the lottery was a miracle that I should be thankful for. Although I had received so much grief from my old neighbours, who I thought were my friends, I realised that they were just bitter people who wanted to ruin something that was a blessing to me and my family'.
Jane now has six grandchildren and lives happily in the South of England with her husband.
You might also like...
It's a sad tale but not too surprising. People become suspicious of those who suddenly come into money and feel they should share it. Of course, even if they do, it's never enough, so it's a no-win situation for the person who's won, surrounded by suspicion and resentment. Of course, the money does offer some compensation.
Dan
- 4-Oct-12 @ 12:04 PM