Tips for Appearing on TV and Radio Quiz Shows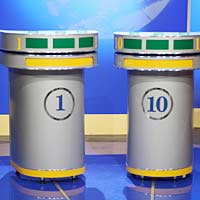 Television or radio quiz shows may seem like the more exclusive end of the competition spectrum but appearing on air is actually a lot easier than you might think.
Playing the Good Odds
The digital age has introduced so many new channels on both the television and radio that individual stations find it necessary to vie for audience attention by putting on prize winning competitions. This is great news for compers because it means that there are now so many production companies that are desperate for contestants, and so, with a little determination, the chances of getting on air and bagging a prize are remarkably good.
However, this is only applicable to the more modest competitions - the tables turn for such high profile names as Who Wants To Be A Millionaire, where it is the public who are desperate, as they scramble for their big chance.
Stay Modest and Avoid the Big Shows
Those committed souls who make it onto the popular big television prize shows have already had to pass through various studio auditions and off-screen heats – it is not simply a case of luck. Would-be contestants can also run up sizable bills in premium rate calls and online applications just to even get to that stage. One report, for example, said that it can cost anywhere between £20 and £1,000 to get on Who Wants To Be A Millionaire.
Therefore to save money, patience and ultimately failure, it is better to keep your targets modest. As a rule, if you have heard of a radio or television competition without having heard or watched it then it is probably over subscribed.
It is better to root out the countless other competitions that offer the more humble prizes. These also have the advantage of not demanding much effort in applying – they usually only require a quick phone audition.
Put On a Show
All television and radio quiz shows require some kind of audition because in this field of comping, personality is more important than ability. It is a producer's job is to keep the audience is entertained, and so they are more likely to go for a gregarious simpleton over a monosyllabic egg head.
Even if you are not naturally an outgoing and cheery individual, it is always best to put on friendly face and act confidently. It is also vital to show that you are not someone prone to long pauses and one word answers, as this is a presenter's nightmare. It is also good practice to have one or two funny stories up your sleeve - this is a very common technique to win over the quiz show audience.
Stand Out From the Crowd
Quiz show producers are also looking for individuals, so if there is anything that makes you stand out from the crowd - whether it's a bizarre hobby, eye-catching dress sense or unique sense of humour – then make every effort to bring it to the fore.
It is worth remembering that those contestants that win over the audience with their particular charms are much more likely to be invited back for other shows.
The theory also applies to your sex, age or ethnicity. The typical quiz applicant is a white middle-aged man, and so if you buck the trend by being a woman, of an ethnic minority or very old or young then you will likely be welcomed with open arms by the show's producer.
Don't Act Too Brainy
Unless you are vying to be a contestant on an intellectual quiz show like Countdown or Mastermind, it actually pays not to act too clever when auditioning.
If you appear too smart you might be excluded; producers are more interested in creating an exciting and evenly-matched show than one where a brain box sweeps the board. If the audition includes quiz question test then it is wise to deliberately get a third or a quarter of the questions wrong.
What Type of Shows To Look For
If you are looking for good odds on making an appearance on a television or radio quiz then it is a good idea to look out for new shows outside of the primetime slots. Websites like ukgameshows.com provide some useful tips about the new quizzes on the air.
You might also like...