Playing & Winning Premium Bonds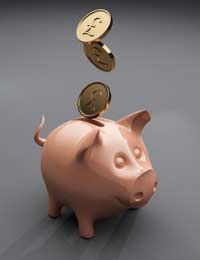 With almost 40% of the population playing the lottery investments where savers win monthly tax-free cash prizes rather than earn interest, premium bonds are certainly popular but are they worthwhile?
Premium Bonds Winners
Since the very first National Savings and Investments (NS&I) premium bond draw over 50 years ago, around £9.3 billion in prize money has been doled out, and a reported 166 lucky souls have become millionaires.
Despite their age, the popularity of premium bonds has never been stronger, with total holdings now hovering somewhere around the £25 billion mark. Apart from being a fun way to invest money, its big attraction is that prize investment returns are tax-free.
What Are Premium Bonds?
The idea behind premium bonds is certainly an appealing one – you can win cash prizes of between £50 and £1 million on investments that meanwhile remain safe and secure. So how does it work?
Anyone over 16 can begin investing in the 'savings with a thrill' if they buy premium bonds valuing anything between £100 and £30,000. Each £1 bond is attributed to a unique number, which every month is entered into a prize draw, in which winning numbers are randomly generated by a computer called 'ERNIE'.
Each bond number has an equal chance of winning, and so if you own 100 bonds then you have one hundred chances of winning a cash prize. The more bonds you buy the greater chance you have of winning.
You can buy premium bonds online at the NS&I website, on their special phone line, by post or at your local post office, and if you ever lose faith in your luck, you can always cash them in for their original purchase price.
Is it a Good Investment?
Although it is certainly a fun and exciting way to invest your money, it isn't a sensible investment.
The money that you would normally receive in interest in a standard savings account is instead put into the monthly prize fund. Therefore, although you are not gambling your investment, you are effectively betting the interest it accrues.
The national interest rate for premium bonds is currently 3.40% but this alters according to movements in bank rates. Although you can get a higher rate of interest with certain savings accounts, they limit the amount you can invest each year to a few thousand, whereas you can hold up to £30,000 in premium bonds.
If you are lucky then holding premium bonds can be the equivalent to investing your money in a high interest account. If not, then you will have effectively gambled away interest you could have earnt in a regular savings account.
What's more although a £1 bond will always be worth a £1, if it is not accruing interest then it is not keeping up with inflation and so is essentially losing its value. Premium bonds may offer the reassurance of being able to get the same money back you invested, but if you invested it 20 years ago it won't be able to buy anywhere near as much.
Improve Your Chances of Being One of the Premium Bonds Winners
Although there are numerous theories bandied about regarding winning techniques – such as buying premium bonds in a single block – there is no evidence to suggest any of them have any effect whatsoever. ERNIE is only programmed to select numbers at random, there is no other method to his inner mind.
ERNIE does allow for one sure fire way of increasing your chances – to buy more bonds. Rather than hedge your bets by investing a small share of your savings in premium bonds in the hope you'll get lucky, the laws of odds suggest that it makes more financial sense to buy as many as you can afford.
The theory is that if you hold a large number of bonds - around £20,000 worth – then you stand a good chance of earning that national interest rate in prize money. It is said that with average luck, a holder with bonds worth £30,000 would expect to win 15 prizes a year.
What Are the Odds?
There are approximately a million cash prizes up for grabs each month, which may sound very promising. However, there are around 23 million other bond holders out there and so the actual odds on winning a prize are around 22,000 to 1.
These odds are favourable in comparison to those of the two monthly £1 million jackpots. The chances of winning this with a minimum investment of £100 are an astronomical one in 70 million.
Unclaimed Premium Bonds
Nevertheless, there are a reported 500,000 unclaimed premium bonds prizes, worth a total of £30 million. So if you own some bonds then use the NS&I to check whether you have already won.
You might also like...