Increasing Your Chances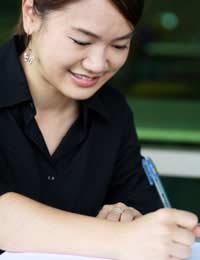 Dropping their competition entries into the post-box and praying is not enough for most compers, they will try any methods to increase their chances of winning the big one.
The Numbers Game
Comping is ultimately all about chance, whatever techniques employed, no success is a given unless the odds are 1 in 1 - and even then the entry might somehow get lost in the post! However, that does not mean that compers do not have any influence over their fortunes, they just can't dictate them. A comper can just increase their chance of winning in the simplest manner by increasing their number of entries.
'You've gotta be in it, to win it', goes the ever familiar maxim and although wildly obvious, it's also undeniable, the odds of winning are dramatically increased as soon as a competition is entered, and those odds keep on increasing the more competitions are entered. Successful compers tirelessly play the numbers game, submitting their many competition entries in the knowledge that although they will only win a very small percentage of them, they will win nevertheless.
Low Entry Competitions
High entry numbers are important but equally important is choosing a competition where there is likely to be a low overall entry number, thereby reducing the odds at the other end. One is much more likely, for example, to win the local raffle with one ticket than with 100 entries to the National Lottery.
The more unusual the competition then the fewer the entrants and consequently the greater the chance of winning. If looking for a product promotional competition then look for those unfamiliar items, such as the horse biscuits or the new brand, and not that well-known washing powder that regularly advertises on the TV.
By finding a lesser known competition that allows more than one entry per person then the comper can even employ both methods to increase their chances of winning. If it only allows one entry per person, they can always push their odds up by getting their friends, family and neighbours to enter on their behalf.
Spreading the Numbers
Many compers feel the best method is best not to focus on one competition, but spread their entries over as many different comps as possible. Devoting oneself to one competition is akin to putting all ones eggs in one basket, and may lead to becoming too wrapped up in one all important result. Spreading the numbers, on the other hand, is much more exciting because with so many entries on the go, there is just no way of telling where the next weird and wonderful prize may appear from.
Quality and Technique
Playing the numbers is fine for consumer competitions like instant wins and prize draws but when a degree of skill is introduced, such as with slogan tiebreakers, then quality control becomes even more important than the 'throw as many at the wall as possible and see if one sticks' method.
For example with slogan tiebreakers the chances of winning are increased by focusing on crafting one sterling piece of work than submitting 10 bog standard phrases. In fact with such tiebreakers the best method is to work up two or three excellent entries that each appeals to the different moods of the judges – such as a witty one and a poignant one.
Staggering Delivery
There is a common belief within the comping community that when submitting multiple entries to a particular competition then instead of dropping them into the post-box all together, it is better to stagger their posting across the whole submission period. The reason for this is that when the judges pick out a winner from the sacks of post on decision day they are believed to use only one postbag.
There is another school of thought that believes being early is nearly always the best method, particularly on competitions where prizes are awarded on a first come first serve basis and those with multiple closing dates, such as weekly or monthly draws.
You might also like...