What if You're the Victim of a Competition Scam?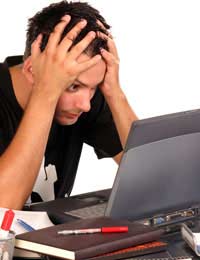 Many of us have had an email, letter or phone call telling us, in an overly excited manner, how we have just won an incredible prize and sometimes these messages often enter our computer screens or telephones when we haven't even entered a competition or prize draw. However, these carefully placed messages are often (but not always) the result of a competition scam.
These scams frequently ask for us to send over bank details or 'just send a £5 check to receive your fantastic prize'. Unfortunately many people believe that the prize is actually there and that it will be sent once you have replied with a 'little admin fee'. These scams are thought up and distributed throughout the country to exploit people.
Paying the Price
A large percentage of these scams ask the competition winner to send money, hand over bank details or ring an expensive phone line. Whether you believe that the company that have got in contact with you are a legitimate trading organisation or not, you should always research and conclude the status of the company before sending over personal details or payment. You can easily enter the name of the company into a search engine to see if it is on the web. If the company is not on the web you can be (almost) certain that the company has been made up to fulfil the scam, as most legitimate companies nowadays have some sort of website or contact address. If you are a frequent comping enthusiast, check your records to make sure you actually entered the competition before going any further. Many people enter so many competitions that they often reply to competitions they have not entered.
Acting Quickly
It is essential to warn others and expose the scam as soon as you realise the competition is not legitimate. There are many websites that are specifically created to expose competition scams and who try and investigate possible scams. Another effective way of exposing these scams is to post them on website forums, that way people are informed of these exploits quickly.Unfortunately, in many cases, if you have sent your money or replied to a phone-in scam the chances of receiving a refund are slim, as most competition scams shut down the competition and move on before anyone realises they have been exploited. However, it may be worth contacting a national scam investigation agencies (there are many on the web) and explaining your situation to them. They may be willing to investigate and try to uncover the culprits.
Contacting a scam agency is probably the first step you should take as they can investigate immediately and try to target the people involved in the scam and attempt to shut down before others are exploited. Having done this you should then try to get the word out about the scam by posting on blogs and forums.
People each year are unfortunately drawn to these fake competitions that promise large sums of money or fantastic prizes and that is why the only way to prevent these exploitative scams is to identify what is real and what is a legitimate competition. So before you send out any money or hand out personal details ensure that you are replying to a genuine competition.
You might also like...
If you text the number you'll be charged at £1.50 per txt for 6 text , totalling £9 , I was foolish enough to text the 88810 number 1st time I received a letter, and the so called unique number match none of the so called prizes!!!! Since I've had 2 more letters which I've torn up and binned , once bitten twice shy
Smiffy
- 7-Jun-17 @ 2:20 AM
Received first letter award '5 may 2017 then received another letter today. 2.06.2017. It's to good to be true scam scam l am Dundee Scotland. UK
Kenny
- 6-Jun-17 @ 4:41 PM
theses people keep writing me letters i just dont understand how these people got my address they cant fool me im to cleaver for all this its my 3rd letter now
hodz
- 6-Jun-17 @ 4:24 PM
Received my second letter from Nominations bureau decided to come on line to check them out nothing only this scam reportthank you
None
- 6-Jun-17 @ 1:36 PM
I have just received another letter from Nomination Bureau (a reminder of the first which I ignored) I think the most important word is 'if' as in 'if your unique ID number ---- 'etc, that must tell you that if you phone the reply will be 'I am sorry your number does not match'. but they will be £9.50 better off - not from me matey!!!
Just received letter from Nomination Bureau saying I've won a cash prize after completing a telephone survey but need to ring 09061 number or text 88810 for claim code. Name quoted is Melissa Burdon, allocations manager. So glad I found this page but can't help but worry about vulnerable or naive who may follow the instructions. These scum need to be stopped
Jules
- 11-May-17 @ 3:45 PM
This scum play on the gullability and naivety of innocent people. The government and courts should have far tougher punishments for those that are caught. I received my Nomination Bureau letter yesterday, looks official and drops the old 'at no time will we ask for your personal, financial or banking information' chestnut to make the reader feel safer but then you call or text a premium rate number, at £1.50 a minute for a minimum of 6 minutes!!!! Boom!!! Bastards. Total scam, bin the letter asap!
JediDaz
- 10-May-17 @ 11:29 AM
I had one of these through too. It is certainly a fake. The give away is in the first line where it is not specific about which competition/promotion we 'entered.' If you had won money in a competition/promotion, they would most certainly state what company they were and what the competition was.
I got the same letter today. It looks very official but nomination bureau isn't anywhere to be found on Google. Definite scam
i have received the same letter myneice texted that number without me knowing plz can someone help or advise
zubz452
- 9-May-17 @ 5:19 PM
I received a letter from Nomination bureau saying I had won one of the prizes but I decided to check it out first and looks like it is a scam These people should not be allowed to get away with this as there are people who will believe this and spend unnecessary money .
kazzie
- 9-May-17 @ 2:56 PM
I have just got a letter from the same people with the same things on I can't believe they can get away with this.
Sacha
- 9-May-17 @ 2:29 PM
My letter from the Nomination Bureau arrived today, quoting 6,021 claims and £211,500 claimable. Just ring 09061 580523 or text CADDY7 to 88810 ..... I think not .... Wye Valley promotions Ltd t/a Nomination Bureau reg office Green Heys, Walford Road, Herefordshire HR9 5DB
Davo
- 9-May-17 @ 12:54 PM
I equally received this letter today from NOMINATION BUREAU, PO BOX 224, HEREFORDSHIRE, HR9 9FN. I was supper excited but decided to look them up online, surprisingly, they don't exist. The letter was signed by one MELISSA BURDON. Super Scam! Thanks for your comments.
Evie
- 9-May-17 @ 11:20 AM
i got one too but mine also came with a form to fill out and post so the phone charges wouldnt have affected me i guess
These people need to be sent to jail just thieves letter seems believable but not acting on ??
Blackbeard
- 7-Mar-17 @ 1:22 PM
Got one of these today...Looks official but it's definitely not ! Bin it !
I got a letter to day to ring a 09061 don't think so off me mobile an it's probley a scam like always thay no my name so that should no my address cuz this is were I got a the letter so just send what ya sending ta
Jilly50x
- 7-Feb-17 @ 10:41 PM
I have recieved 1 of these letters today signed by Thomas Lewis. Same scam company but using UK Fundholder Registration and 6x£1.50/msg. Must think im stupid
amy
- 7-Feb-17 @ 10:02 AM
Received on of these letters today, they are now using the name Thomas Lewis. It comes looking like a government type letter but they want £9 off you in phone /text charges.Stay well clear of this scam.
julia
- 7-Feb-17 @ 9:28 AM
I to have received a letter and a reminder I too was really pleased but I checked it out on the Internet do not ring or text it is a big scam thankyou cathy.
Cathy
- 4-Oct-16 @ 7:35 PM
I have received several reminder letters and would like to know how to tell these people where to stick them, total scam
Muddy
- 4-Oct-16 @ 3:21 PM
I too have received at least 6 reminders saying that There is money waiting to be claimed from Andrea starleyand I will never phone to be charged £9 a call so it must be a scam as they never write back as they want you to callso Don't be fooled bin it
Beany
- 4-Oct-16 @ 12:05 PM
Received a very official believable looking letter today from Andrea Starley. Telling me to ack quickly as I have won a prize. At first I was excited and thought of ways to spend the money if I got a huge amount... And then thought this must be a scam. It would cost me a fortune to call or text them. This is a huge scam giveaway. I don't know what to do about it. I don't want anymore of these letters and I don't want an innocent person to receive one and end up losing money. Going through the shredding as I type!!
Emmy-Lou
- 6-Sep-16 @ 5:42 PM
I too have received one of these today from Andrea Starley asking me to ring or text for a minimum of £9.......don't think so Andrea. However I will be send my tear off slip at the bottom of the letter covered with a few strong words, not that this will gain anything but it will make me feel better!
Dolly
- 6-Sep-16 @ 4:48 PM
I've received a letter from 'Pending Fund Release' also from Andrea Starley, knew it was a scam as soon as I opened. Don't ring or text any numbers, if you have really won, they would call you!
Rebecca
- 6-Sep-16 @ 9:08 AM
National record entry release, address PO box 223 Herefordshire, HR9 9FL, is a fraud using name Andrea Starley as fund manager. Don't phone 0906159077 or text 88810 big fraud same address but they change the company name and names of managers.
Mel
- 15-Jul-16 @ 11:33 AM
@Naam - I would never respond to anything like this they make their money from the premium rate calls - do not telephone them.
Christie
- 24-Nov-15 @ 12:38 PM
Got few letters from The Prize Directory. Roger Davies Prize Manager. Top prize of £20,000 is waiting. Call 09061 580 119 or text DOVE to 88810. Calls cost £1.50 x 6 minutes (Minimum). Or post self addressed envelope to: Dept VC, TPD, PO Box 223, Hertfordshire, HR9 9FL. Is this a SCAM?
Naam
- 23-Nov-15 @ 6:36 PM