Understanding the Prize Rules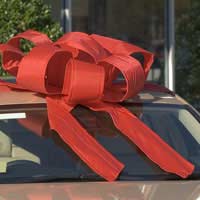 If the business of entering a competition weren't fraught enough with various confusing regulations and conditions, all the cares and worries don't fade away once the prize is won, in fact new ones surface.
Have I Won?
The most troubling part of entering any competition is that anguishing period waiting to see if an entry is successful, a torment that gets ever worse as the draw date approaches. Most compers learn to deal with this stress, living as they do forever inside this period, with several comps on the go at any one time. The worst part is that, unlike an exam or a job interview, losing entrants don't receive a notification to say they have been unsuccessful, they just hold on until they finally give up hope. Or until they write for clarification of who has won.
The competition rules states that promoters are obliged make the winners' list available, including the winning names and the county where they each reside. The terms and conditions provide details on how to get hold of this list. Usually it involves either sending a stamped addressed envelope or, increasingly, looking on the promoter's website.
The winners themselves will be contacted anytime over a 28 day period by telephone, email and letter, with at least one letter being sent recorded delivery, as part of the best practice code of the Institute of Sales Promotion. If no contact is made then quite often the prize is often awarded to the second name drawn out of the hat.
Where's My Prize?
Those lucky enough to receive the familiar long white envelope through the post that tells them they are the lucky one will usually have to wait up to 28 days to receive their prize. If nothing further is heard and the four weeks are up then the promoter should be contacted to ask what is happening.
Many winners endure a further period of anguish as they wait for their prize, worrying that it might arrive when they're out. If a prize arrives by post when no one is at home, and it is either too big or needs a signature then it will invariably be taken to the nearest post office and a collection slip will be left behind. The item will be kept at the post office for several weeks before being returned to its sender, nevertheless it is advisable to retrieve it as soon as possible.
I Don't Want My Prize!
It is a constant source of mystification that there are always competition winners who aren't satisfied with their prize and want something else. The other entrants no doubt find it particularly galling. It seems that many people enter competitions for the joy of winning a big prize, without really considering the reality of, for example, having a luxury sports car parked out on a troubled high rise estate.
If the first prize was a car, then whether the winner could take a cash alternative, or choose a more user-friendly model or a prettier colour would be made expressly clear in the terms and conditions. Often prize winners find they win a fantastic car but are faced with taxing it and paying a jaw-dropping fee to insure it. These factors and other 'reality checks' should be found in the terms and conditions as well.
Similar rules would apply to that other popular big prize win, the holiday. These are usually non-transferable and do not allow the winner to sell it on or alter the destination. Nevertheless this is the odd competition that doesn't mind such ingratitude and will offer holiday vouchers or cash alternatives, but this will be stated in their terms and conditions.
The Reality Check
Ultimately such problems arise because either people don't really believe they are going to win or, as stated above, because they just want to win the 'big prize' whatever it is. To save dissatisfaction and irritating losing entrants who would genuinely love such a prize, then it is always sensible to first consider whether the prize is suitable before entering.
You might also like...