Understanding The Small Print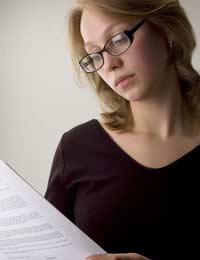 They may appear miniscule and in unrecognisable English, but reading a competition's small print is a necessary evil and will likely save misinterpretation and disappointment later.
Big Importance of Small Print
A competition's terms and conditions, or 'small print' are more often than not presented purely out of legal obligation and not for the easy understanding of the entrant. Consequently they can be both difficult to both read and understand. Nevertheless it ultimately benefits compers to be keenly aware of the terms and conditions, not only so that they don't get caught out but so they know at which times they can do the catching.
The Whims of the Judges
The small print rarely provides ways to make life easier for the entrant, more often than not it is the judges that want everything 'just so' if they are going to give up their nice prizes. And with so many identical entries, the small print allows the judges any number of reasons to chuck one in the bin.
Judges often demand that entries are written in capital letters, for instance, so that they're more likely to be able to read them. Black ink is often requested in the small print so that entries can be easier scanned and photocopied. This is usually for the larger competitions involving a handling house and various levels of administration. This situation also demands that entry forms requiring an accompanying till receipts are securely fastened.
However annoying and finicky the rules might appear, there is usually a rational explanation behind it. As long as an entrant adheres faithfully to the small print, the judge can't throw the entry into the bin - that's in the terms and conditions!
Fixed Fee Troublemakers
Nevertheless although most promoters and handling houses don't deliberately set out to trip up unsuspecting hopefuls into making invalid entries, there have been many cases where some have done it deliberately to keep entry numbers down.
Ridiculous clauses such as specifying entrants write their submissions on paper of a certain size and enclosed with an SAE of an unusual size and stamped with a strange value or requesting qualifiers with receipts from particular time periods and random bits of packaging. Such awkward troublemakers are typically the handling houses known in the industry as 'fixed fee' companies.
These companies are paid a fixed fee by promoters up front before the project begins and not according to the amount of entries received, the amount of work put in or prizes given out. It is therefore in the financial interests of these particular handling companies to keep their involvement as brief as possible, regardless of the interests of the competition hopefuls. Needless to repeat, the ones who follow the small print don't lose out.
Unscrupulous promoters could even pull out the notorious clause of prizes only being presented as long as entries of a sufficient standard are received, so that they don't have to give out anything at all! Fortunately this is an unlikely scenario and such a stipulation is only meant to deter the surprising number of illegible, incomplete and unpleasant entries that an average competition attracts.
To Be Claimed Within 48 Hours
A more worrying clause is one stating that prizes not claimed within 48 hours will be withdrawn. Traditionally unclaimed prizes are awarded to somebody else or to a redrawn winner, but this ever reappearing rule means that if a prize is not picked up within the brief time of two days then the promoter does not have to give anything out, and thereby saving them a lot of money. This questionable tactic is nevertheless allowed under the terms of the Code.
One Entry per Household
One of the most familiar small print clauses, and particular bugbear and stumbling block for hardened compers, is that limiting entries to either one per household or even one per person. Why do they do this, don't they want more entries, more products sold?
This clause is usually employed when the aim of the competition is not to increase sales but to build up a database of customer contact details. If one person or household is allowed to enter more than once then it just creates work for no gain.
You might also like...