Warnings About Telephone and Text Competition Entries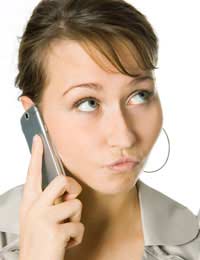 Telephone and text entries allow people to enter competitions with relative ease, but they are also notorious for stinging entrants with expensive phone bills
Ease and Direct Entry
The telephone has proven to a hugely popular way for people to enter competitions because of its ease and directness, saving the bother of posting an entry and the reliance on Royal Mail to deliver the all important admission.
The mobile phone's texting facility is now proving a similar revelation to the world of competitions, granting even greater ease as well accessibility for the phone shy multitudes. As result texting competitions are popping up all over, from TV and radio to newspapers and magazines.
Telephone Charges
A typical telephone competition entry involves simply leaving a voice message with both the qualifying answer and contact details clearly stated. Unfortunately this ease of operation usually comes at a cost. The price per minute for competition hotlines varies dramatically but it is almost always more than the price of a stamp.
The most shameless promoters use a premium rate number of one or two pounds per minute and then employ tactics to delay the caller on the line, so as to accumulate an extortionate charge. The prize will have cost them next to nothing in comparison to the profits they amass in phone charges. It is therefore essential to check the call charge rate before dialling the number.
Fortunately the law does dictate that this information is provided in the terms and conditions of the promotion, however miniscule it is displayed. For those still uncertain about the cost of a particular call, BT's webpage provides the charges for specific codes in the United Kingdom. The number prefixes '0800', '0500' and '0632' should be particularly eye-catching as they mean the call will be free.
Unexpected Text Tariffs
Premium rate competition line scares have become depressingly commonplace but have at least woken people up to the risks involved in dialling that potentially 'lucky' number. What is now less familiar are the similarly indulgent prices involved with sending a competition entry text.
Many people are so used to having free or 1p or 2p texts as part of their mobile phone bundle that they don't stop to think that a competition text entry may be costing them as much as £1.50, at least not until the bill arrives. With text messaging this is an even easier mistake to make because their very nature encourages users to send texts in a free and casual manner, without being entirely sure what they are doing. Telephone entry does at least give entrants the opportunity of sitting down at home and studying the promotion.
Further Benefits of Text Entries
Texting is helping bring the 'instant' back into instant win competitions. For example confectionary competitions, such as those run by Mars and Cadburys, often ask the buyer to send a code found on the inside of a wrapper to a special number using their mobile, and are then told almost instantly if they have won.
Typically, to enter a competition using a mobile phone, entrants need to send a specific code word, the answer to the qualifying quiz question and their contact details. It is important to note the codeword very carefully otherwise, the phone user will not only not be entered into the competition but they'll be charged for the text too. In addition it's worth checking in the terms and conditions whether multiple entries are allowed
You might also like...
I would like to know, is it right & proper that when you enter a texting compitition you should then be enticed to enter more times by being told that if you enter again the next you will get a free go. Then when you have done that they offer you the chance to enter again at more cost to you.( THE GADGET SHOW ) I think this is like an enticement to gamble. Which I thought was against the law.
andy pandy
- 22-May-11 @ 12:28 PM