Competition Entries on the Internet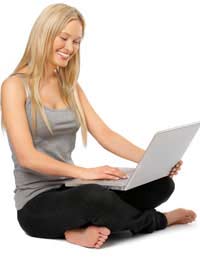 As a world wide web the internet offers a suitably intricate and widespread array of opportunities for the tech-savvy comper but, as befits the name, there are also a great many ways to get caught out too.
A New Age for Comping
As consumer communication networks move into a new age and move out onto the internet, consumer competitions naturally follow suit. The advantages and disadvantages of entering competitions online mirror those of any internet user –one finds a great wealth of opportunities and a convenient and easy system with which to access them, but also a huge mass of rubbish, out to mislead and make things difficult.
Some Advantages and Disadvantages of Internet Competitions
More specifically internet competitions provide an easier and more cost efficient way to enter promotional comps. Most internet competitions are free to enter, and there is no need to buy postcards, envelopes or stamps and no need to traipse down to the nearest post box - it can all be done whilst sitting down in front of a screen.
Convenient yes, but it also takes away some of the magic and romanticism of comping – the ritual of dropping the entries into the post box, the exchange of entry forms at a comping gathering, the euphoria of the long white envelope.
However the ease of internet entry means that compers can enter more competitions in the same space of time, and thereby significantly increase their chances of winning a prize. Or would it – do internet competitions have similar odds on winning?
Chances of Winning
With so many competitions on the internet not only quick and easy but also free to enter, there will inevitably be a higher number of entries overall and therefore a lower chance of winning. In effect, this could simply mean that the odds on winning improved by the extra entries the speedy internet enables compers to submit is balanced out by smaller chance of winning the internet offers.
This is of course a very general assessment for those entering the more high profile comps, a web-savvy comper with an eye for all the obscure comps the internet has to offer could easily buck this trend and find those increased rewards on the world wide web.
The internet even has its rewards for those choosing to stick with paper and postcard entries. Its ease of use means that people are even less inclined to take the trouble to enter the 'real' comps, ultimately meaning that the odds of winning are increased for those that can be bothered!
Junk Mail
The internet's incredible speed and ease of access also has a flipside. Those companies using junk mail to peddle a variety of services now have a much easier job of bombarding unsuspecting souls. Almost anybody who signs up to a web service opens themselves up to receiving junk mail via email, but those that enter their personal details for a competition are especially vulnerable. This is because, like with many consumer competitions, the entry price for most of the 'free' comps is the surrender of personal contact information, one of the necessary evils of comping.
Although there are many compers who don't mind receiving such mail as it can sometimes lead to further competition opportunities, there are also a great many that do and are put off by the internet's often invasive advertising techniques. Fortunately it is actually now much easier to control junk mail on the web.
Controlling Junk Mail on the Web
Firstly, keen-eyed compers will notice that on registration pages in the form of a tiny tick box, there is usually an option of not receiving details of any future promotions. For those that have already started regularly receiving annoying emails, a good technique to stop them is to open one up, scroll to its end and look for the option that says 'unsubscribe' and then click on it.
Those compers who want to control their junk mail but don't want to miss out on any special offers contained within could set up another email account exclusively for all comping-related activity.
You might also like...