Reality of Comping Addiction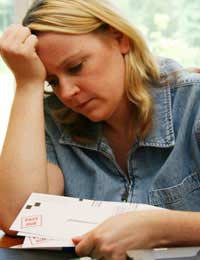 Comping may be a fun and light-hearted pastime but it does have its darker side, particularly if you let the compulsion to win start to take over.
Comping and Gambling Addiction
The hobby of entering consumer competitions is affectionately known amongst devotees as 'comping'. It's a fittingly jovial and light-hearted name because comping is not a serious pastime; it's just a bit of fun.
It needs its own name to distinguish it from that more disreputable pursuit of prizes – gambling. Gambling addiction is a serious problem, with addicts ending up losing all their money and destroying their lives. Comping is not like that – it's free after all.
Comping Can Become Extremely Addictive
Of course comping is similarly compulsive. That intense thrill when the long white envelope heralding news of a win slides through the letterbox is hard to beat, and difficult to resist.
The intoxicating taste of success is addictive. You crave that feeling again. Comping may be a fairly harmless activity but any kind of addiction can be damaging - you don't need to lose pots of cash or your physical health.
Addictions can strain relationships and interfere with responsibilities at home. Despite being 'free', comping addictions can even cause financial headaches too – once you've subscribed to the websites, magazines and forked out for postcards and postage, the costs add it up.
How Do I Know I Have a Comping Addiction?
But how do you know when you have a problem? For most, entering competitions is something they indulge in a couple of hours a week when they have some free time. But as any experienced comper knows, to ensure a fairly regular winning fix you need to invest a lot of time looking for and entering competitions.
Comping crosses the line from harmless hobby to problem when:
It takes precedent over responsibilities - not just daily duties but spending quality time with others.
It starts feeling more like a job than a hobby – necessitating daily routine mundane tasks.
It stops being fun and becomes more like an obsession.
The costs for postage, stationary, subscription fees, promotional products etc outweigh the prizes won.
Comping Should Be Fun
At the end of the day, comping is only a worthwhile hobby if participants don't put in too much time, effort and expense. If a prize becomes an expectation rather than a pleasant surprise then it's time to question how seriously you're taking your so-called hobby.
Frustrated compers complaining that they are not winning despite entering hundreds of competitions every day are a worryingly familiar sight on comping website message boards. Clearly they have crossed the line into addicted compers who treat comping more like a job than the fun frivolous hobby the name was originally meant to convey.
It is important to never forget that however much one challenges the odds by entering as many competitions as possible, prizes are not awarded to the most dedicated but the person with the luck on the day. Dedicated compers have no more right to a prize than someone who has never entered a competition before.
Beat the Addiction
To ensure that comping stays being fun and doesn't become an obsessive addiction then follow this tips:
Be selective and prioritise – don't just enter every competition you can regardless of whether you want the prize or not, choose the competitions offering the prizes you really want to win.
Set a comping time limit – decide on a time period each day or week which you devote to your hobby.
Don't set entry targets – enter as many competitions as you can in your allotted time. Don't worry about reaching a recommended target.
Don't obsess over any competition – once you've entered a competition, forget about it.
Interact with other compers – comping is best enjoyed as a social activity. Get on the message boards or join a local comping club.
Enter competitions that require some brain power rather than just mundane box ticking. It makes it more interesting.
You might also like...