Fruit Machines - The Art of Winning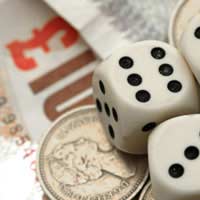 Fruit machines are a favourite of British pubs and amusement arcades but is there really an art to winning on them or is it luck or something more deceitful altogether?
Loud, Brash and Colourful
Accounting for a significant 14% of the UK's gambling market are the self-operating gambling machines variously known in the UK as slot machines, one-arm bandits, AWP (Amusement with Prizes) or, most commonly, fruit machines.
Unlike in most countries where they are mainly a casino floor mainstay, the characteristically brash, loud and colourful fruit machines mostly populate amusement arcades and the corners of pubs and clubs.
Basic Rules
Their name derives from their distinctive game design, which typically involves players spinning 3 reels with around 16 to 24 fruit, bars and number symbols printed on them. If certain combinations of fruit are spun then the machine either pays out cash or triggers a sub-game, where further opportunities to win money are presented.
Although it can vary according to the type of establishment, as a general rule British gambling laws limit the cost of a single game to 50p, the maximum payout to £35 and the minimum payout percentage to be 70%.
Fruit Machine Gameplay Features
Two main features of fruit machine play are 'holding' and 'nudging'. The former refers to when a player is allowed the opportunity of holding one or more reels before a particular spin. This is so the player can retain a result from the previous spin whilst spinning for new symbols with the remaining reels.
When a player is allowed to nudge a reel following a spin, this means they can move a reel round one step so that it rests on the next symbol, hopefully resulting in a winning pattern.
A Game of Luck?
Fruit machines are traditionally believed to be ruled by a combination of luck and skill, particularly with their hold and nudge functions. In fact they require greater ability than their US slot machine counterparts, which are solely based on luck.
Nevertheless fruit machines cannot be 'beaten' as they are programmed to pay out a percentage. The luck of fruit machines is largely governed by their pay programming. They are all programmed to pay out often enough to keep people playing but whilst still reaping a profit for the owner. The payout percentage can be adjusted on each machine and, as stated above, by law should be set at least 70%. In theory such a percentage will mean the machine makes a player lose £10 before paying out £7.
Sharking
Sharking is when a player keeps watch over a machine waiting for a sustained period when it doesn't pay out, and when the likelihood of it paying out a jackpot reaches a height. It is at this point when the sharker starts feeding coins into the machine.
The practise of sharking is well known among fruit machine circles and largely frowned upon by establishment owners. There is also common belief amongst fruit machines players that brand new machines initially have higher pay-out percentages in order to attract players to play them. When the word has got around that a particular machine pays out regularly and has enticed many new customers, the payout percentage is then lowered.
Fraudulent System?
Some argue that sharking is merely taking a fair advantage on a fraudulent system. A FairPlay campaign in 2003 promoted the fact that UK fruit machines unfairly make players believe that they present a game of chance and gambling when in reality it is not at all.
FairPlay conducted repeated tests on a wide variety of fruit machines and found that in every single case the machines cheated for pretty much their entire cycle, and whatever a player chose to do had no actual effect on the game, and was in fact all pre-determined. FairPlay denounced fruit machines as unlawful, deliberate corporate theft on a grand scale.
You might also like...