Playing and Winning at Bingo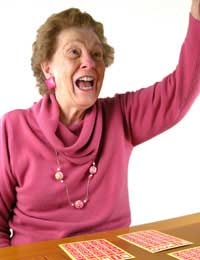 With its classic mix of simplistic gameplay, edge of the seat excitement, social occasion and big cash prizes, it's no wonder bingo has captured the hearts and daubers of people all around the world.
A British Night Out
Over three million Brits play bingo regularly in one the nation's 688 licensed clubs. Despite efforts to jazz it up for the younger folks, bingo is largely popular with people with a bit more maturity under their belts and traditionally played anywhere from sophisticated modern bingo halls with flashing lights to church halls and retirement homes – and now even the internet is having a share of the action. An average night out at the one the main bingo halls costs between £15 and £20.
British Gameplay
Bingo may be played around the globe, but there is not a universal set of rules. Someone from the Isle of Man could not expect waltz into an Argentinean bingo hall and expect to know what was going on. Despite its simplicity there are many variations to its rulings, particularly in the UK where it can even vary from region to region.
Nevertheless the standard British game is 90 Ball Bingo. Here balls numbered 1 to 90 are drawn at random and as each number is called the players mark it off, or 'daub', on their special card. This 'ticket', as it's often known, is made up of twenty-seven squares of three rows and nine columns. In every row, five squares contain random numbers.
The game is often made up of three stages with three different winning opportunities. The first winner is whoever marks off five numbers in the same row, what is termed a 'line'. Whoever daubs two lines is declared the second prize winner. The grand climax is when a lucky someone marks off every number on their card - a 'full house' or 'coverall' – and wins the game's grand prize.
75 Ball Bingo
Another popular variation on the bingo theme is the game known as 75 Ball Bingo. This is the standard version found in the U.S. and offers more variety than the 90 ball game. As hinted by the name, there are only 75 numbered balls circulating and this time the corresponding ticket is a square shape, with twenty-five squares of five rows and five columns.
The game action itself has the same main principle targets but with this game the shape of the card allows people to play for certain shapes and patterns, like a cross or a letter, as well as the traditional lines.
Prizes and the Chances of Winning
The largest prizes are offered by the national computer-controlled bingo game, which attracts up to 500 clubs, twice a day, every day. The top cash prizes vary from £50,000 to £200,000, depending on the day of the week.
With each ticket having the same chance of winning as the one on the next table, the only way of increasing the odds on bagging the loot is to buy more tickets. It is not uncommon to see players with several tickets struggling to mark them all off at once. The actual odds on winning the national game are believed to be 1 in 200,000 for a £10 stake, which are fairly good in comparison to most big prize competitions.
The number of attendees also determines how quickly someone will scream 'house'. For this reason, a game on Friday the 13th will offer better odds because all the superstitious players will spend the evening at home. And there are a lot of superstitious players.
Luck and the Illusion of Control
Like with many other games of luck, in the absence of skill, superstition often steps in to help create some illusion of control. There are countless stories of bingo players taking along trusted lucky charms, jealously guarding a particular seat or using horoscopes as a guide to performance.
Nevertheless those keen to use some degree of skill can develop their computer abilities with online bingo.
Online Bingo
It is believed that over 145,000 players worldwide prefer the ease of online bingo to packing out the local Mecca or Gala hall. Its popularity is easy to gauge from the great number of bingo websites now available. Although it lacks the social interaction that makes its real world cousin such a hit, web players are able to play with their friends and chat to other players from around the world.
WINNING COMPETITIONS IS FOR SALE.
This website is for sale [more info].
You might also like...